A reason to love shopping online using the latest digital technology when purchasing your clothes. Are you lacking inspiration but simply don't have the time or sometimes undecided what to wear? I've collaborated with Thread to walk you through their amazing platform using AI technology to style your new season's closet staples that's uniquely personal to you.
For those who are unfamiliar with Thread for Men the online British Retailer was founded during 2012 in London. Thread has an innovative way of providing discerning men the opportunity to purchase new clothes by matching users with virtual stylist who can offer a personal shopping experience through the website and iOS App.
So, how does the technology work? In layman's terms it is style cleverly decoded simply at your fingertips in just a few clicks away. Thread uses a combination of machine learning and Artificial Intelligence to give your personal stylist a hint as to what you are looking for and get acquainted with the site's users.
I've never used the Thread Styling App before and from what I've seen so far, I'm really impressed their online store is home to my favourite leading Brands I'd love to covet. But, most of all I do praise the fact the platforms algorithm knows my personal style so well. Come to think of it, it is just like having your own personal shopper on your arm to guide you on a shopping spree down the high street. Just for you guys at home curious about jumping on the band wagon to find out what the digital shopping experience is really like it is simply easy as signing up to get the best outfit ideas tailored to you.
With spring season upon us I have taken the online shopping approach versus the traditional way of shopping in store. Now, let's start by setting up a new Thread account with the objective to discover the latest spring style staples trending now as new additions to my closet.
Here we go, Let's try it together and come shopping with me….
HOW TO SET UP YOUR ONLINE PERSONAL STYLIST
Start by Downloading the Thread App or head over to the website Thread.com
Sign up and register for a new account and you will be asked to provide some details about yourself including stats and clothing size measurements, what's currently in your closet and how much you are looking to spend budget wise. It even has an option that highlights fit concerns regarding body shape which will come in handy. For one, I'm very slim or sometimes in between sizes is good to know, the more info the better.
On the next stage I was prompted to select some key looks that define my personal style from a few Instagram style grids – so this is where the algorithm gets triggered and begins to work hard so you don't have to.
Upon gathering this information, you will then be allocated a virtual stylist, mine was called Toby who provides you helpful suggestions on what clothes for you to purchase.
DOWNLOAD STYLE EDIT'S BY YOUR PERSONAL STYLIST
Thread Stylist will search up what you're looking to get and come up with a Style Edit of complete outfits to single items which is great don't you think. Thread App's AI technology relies solely on it's algorithm to style looks that's uniquely personal to site users preference by going the extra mile to find what you need.
Once I knew what I was looking for in terms of which looks appealed to me, I started to like both a mixture of traditional versus contemporary style staples that I could easily wear day in day out. For instance, I think having a great jacket or coat paired with minimal trainers can create versatile looks as I like to mix and match by switching things up a bit.
At this point it was helpful to let my Stylist Toby know this beforehand using the Apps technology. Within an hour I got an email of my 1st Style Edit download from the suggested items – the end result was definitely up my street.
Once your Stylist has decided on Spring Jacket Styles for you to wear, let the clever algorithm work its wonders to seek and find the best style options to suit and budget proving technology is worthwhile for even the discerning cash time poor consumer looking to shop with ease online.
I highly recommend anyone to use the platform especially style savvy Gent's who are not quite sure what they're looking for. If you're seeking a unique shopping experience that's time efficient Thread utilises a combination of both AI and curation to ensure your digital shopping is effortless every time.
I'd say AI technology has its perks when it comes to online shopping because a computer never forgets, and all your data is stored in your Thread account for next time. For instance, compared to the human mind sometimes it tends to forget specific details about an individual unless reminded again.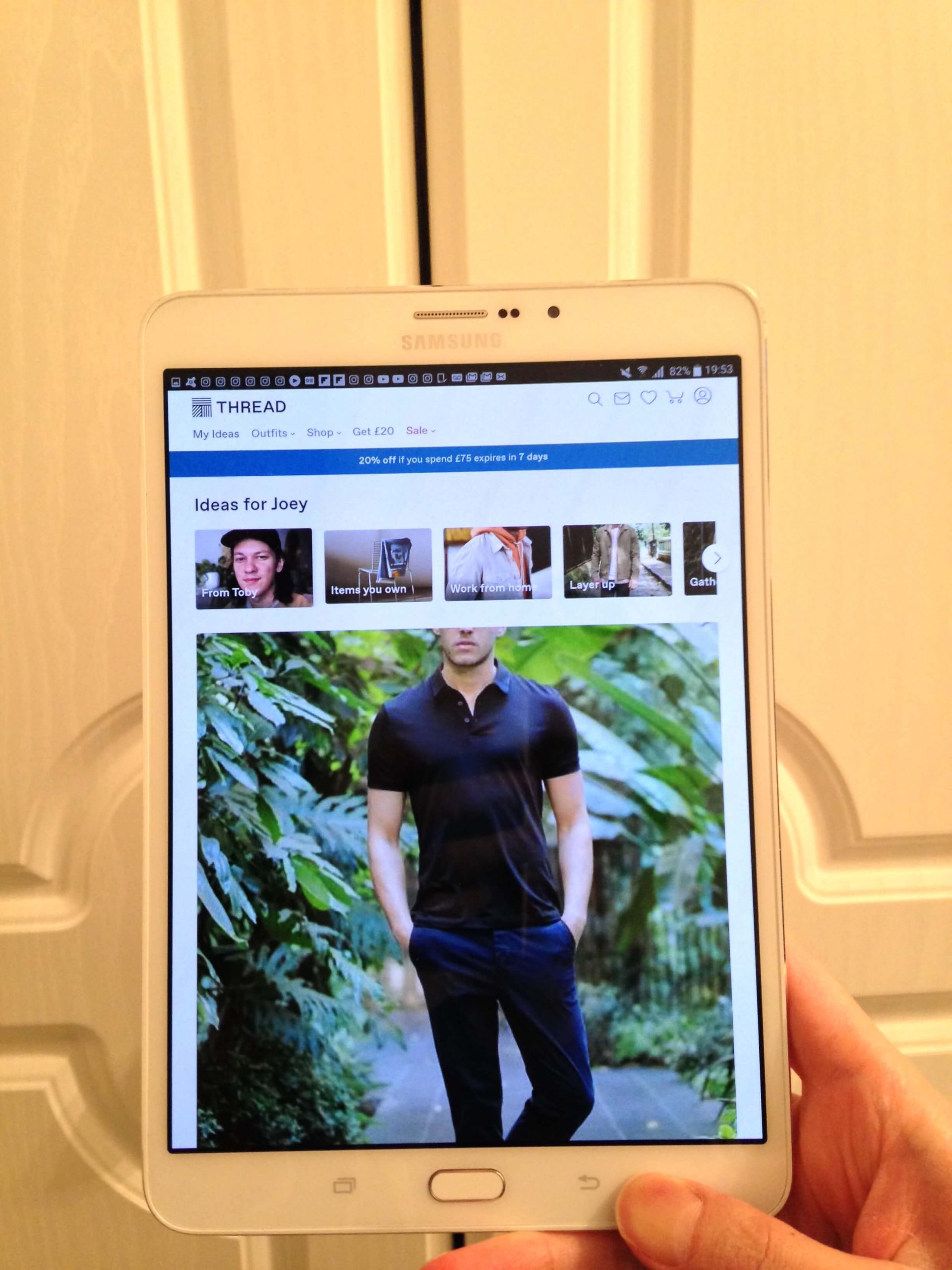 In the Ideas Tab, this is the fun part where the AI Technology takes over to style curated looks for you based on personal preference and data stored about customers.
The Ideas Tab is a great self-help style guide for men where you have the option to like and dislike ideas that your Stylist provided you as well as suggest areas to improve on, if not quite right first-time round. I have to say my Stylist recommendations from Toby were spot on in 'How to Style Up Casual looks' as I've been looking for the perfect pair of Black Chelsea Boots to dress up my tonal outfit for casually meeting friends on weekends.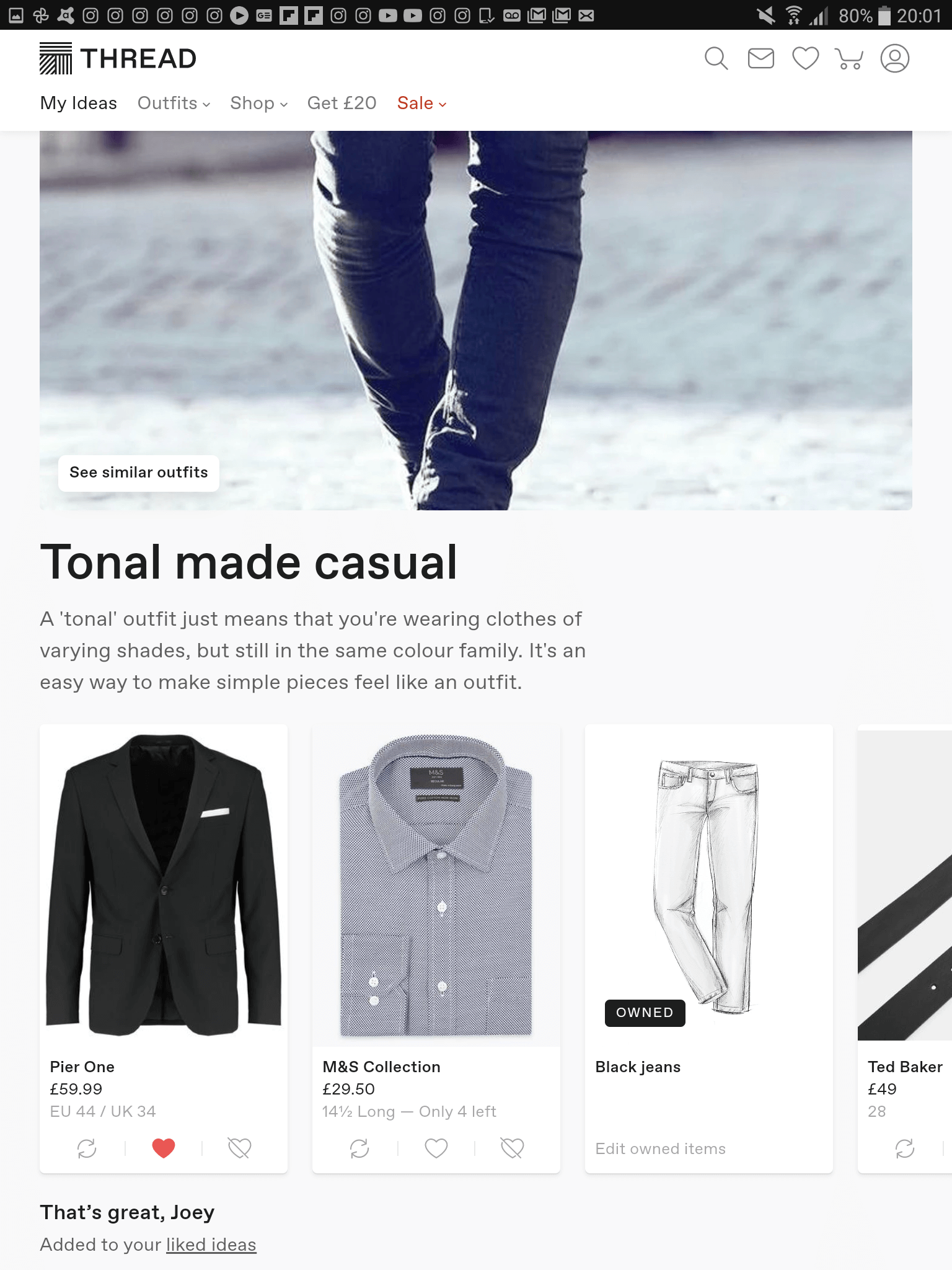 I personally think AI technology has its advantages when shopping online which ensures you get the best out of the algorithm when using the platform to make purchases. Overall, the simple process from signup stage as 'New Customer', to searching for what I was ideally looking for, with help from 'Toby' my virtual Stylist, to buying my items and having it delivered within 24 hours ­­­– just superb. I could not be happier as the customer service was second to none.
In my view Thread caters to all your shopping needs one would expect from a premium online personal shopping experience for style savvy men who want to dress to impress with the added bonus of a free service. It's definitely a great service for those that seek on trend advice and opinions on Men's Style downloaded digitally with no fuss. It's time efficient shopping in just a few clicks.
New Thread users will receive 20 percent off their first shop on orders over £75 upon signing up on the website or App.
As the world we live in has now changed, the option of online shopping and using an App makes life easier and gives the 21st Century Gent a unique shopping experience that's unforgettable. Want more style inspiration to add as new additions to your spring seasons closet? You can Shop Thread here.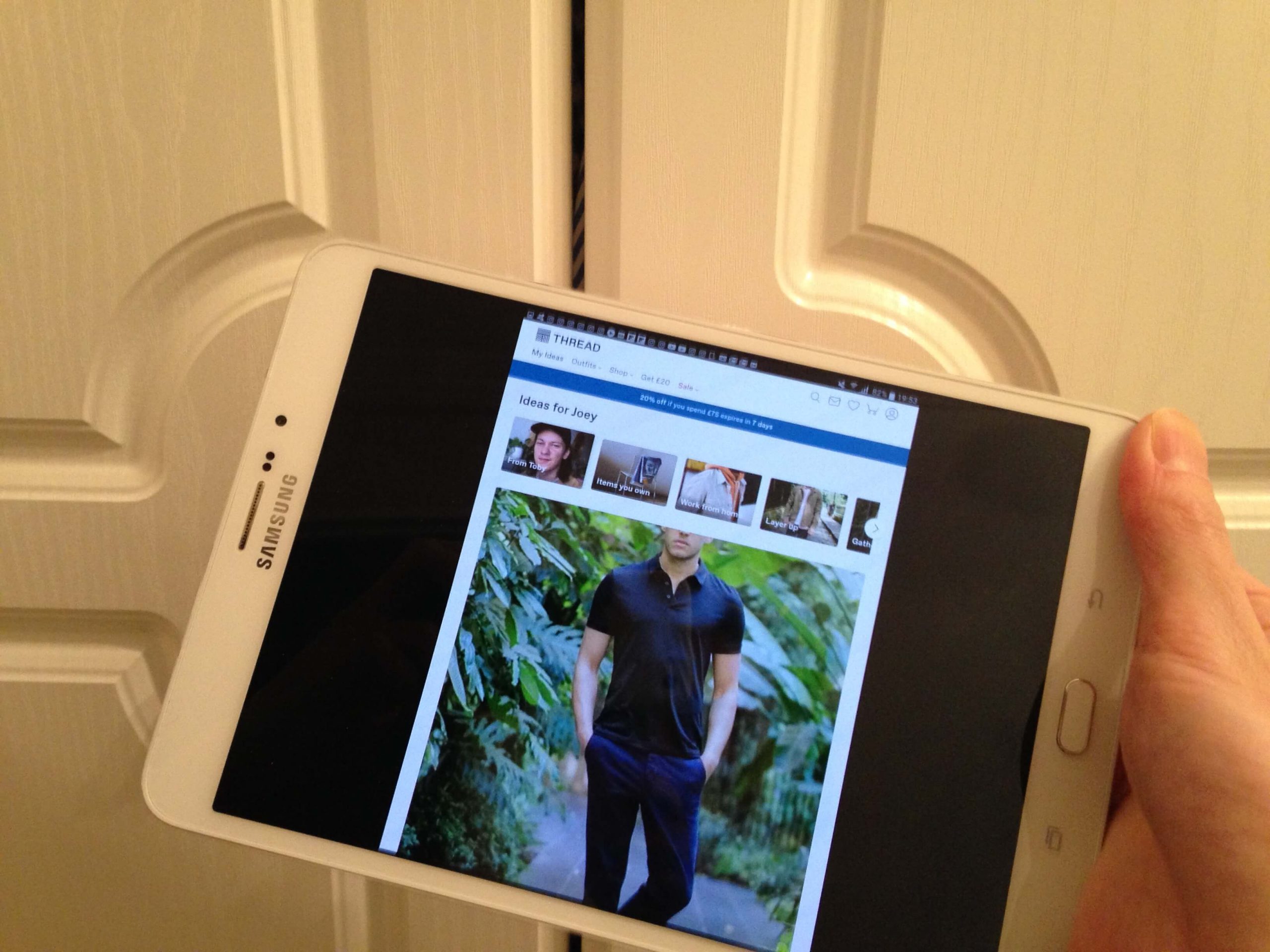 Editorial Disclaimer: I only choose products and services that I am interested in reviewing to make sure I give honest feedback and any prices or offers mentioned or quoted in this article are subject to change by the Brand Thread.com
I'm a writer, Men's Lifestyle blogger, Contributing Style Writer, and Digital Marketer. In recent years, I've been published on Yahoo! Style, Yahoo! Travel, and others. Named Top 10 UK Men's Lifestyle Blog on the web to Follow in 2020 by VUELIO. Check out my YouTube Channel and follow us Twitter #TheJoeyJournal TikTok @TheJoeyJournal