Vinyl Flooring Perfect for the Party
If you like to entertain crowds at home or are the person to throw parties but fear the clean-up, there is an option that will greatly benefit you in choosing luxury vinyl flooring for your property.
Over the past two decades, interior designers and specialists recommend vinyl tiles and planks as a preferred option. The vinyl option has many benefits for those with limited time for cleaning and maintaining the home. This is much the same as with MDF skirting boards. They are so easy to clean and maintain – plus, they are built to last and are very cost effective too.
Quick Install
In browsing the many brands within the vinyl flooring marketplace, you may be surprised to learn what makes it a high appeal to homeowners looking for a change.
Why it is a preferred option for the home is because of the relative ease to install yourself without the cost of a professional fitter. Whether it is an option of glue down or click together, vinyl tiles are a fun project to get into on your own time and, due to the ability to have pieces cut to size to fit – you are seldom left with frustration.
Vinyl is comfortable underfoot and has plenty of styles to choose from to match your influence.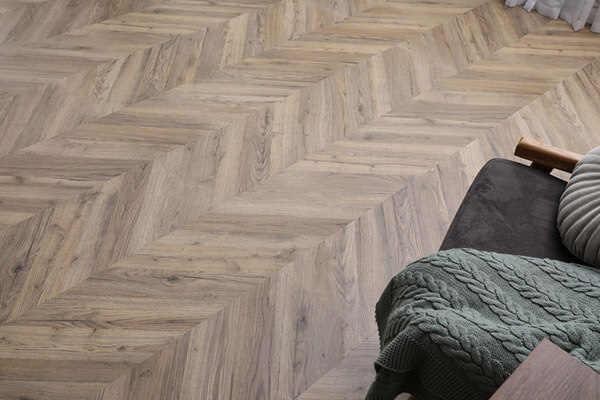 Stain and Scratch Fighter
If you are keen to throw parties for every occasion under the sun, then luxury vinyl flooring is a lifelong option due to its durability and resilience to hard stepping, heels and the odd spilt drink or food.
Come the morning after, you may have a clean-up on your hands, but your flooring will not take long due to its liquid resistance and anti-stain design. You won't be dealing with nightmares of scratches across your floor due to vinyl's anti-scratch implementation.
A simple clean with a warm soapy sponge or mop and your floor retains its glossy finish again and again. It is a perfect product for homes with heavy foot traffic.
Kitchen Connoisseur
If you like cooking for a crowd, then vinyl tiles in your kitchen are the perfect assistant – no matter how messy things get.
Easy to clean no matter if making spaghetti, curry, pizza or salad, vinyl has your floor safe and stainless from any dropped jars or sauces that typically mark flooring no matter how many times you wash it.
One spill, one wipe and it's back to its usual look taking no time out of your meal preparations and time to mingle with your guests.
Finding your Style
With vinyl floor tiles and planks you are not limited in selection. Some brands offer popular as well as more diverse styles to choose from and can showcase how they would fit the current feel of the room- as well as match your room fittings or furniture.
No matter what you set out your home to achieve, luxury vinyl flooring provides extra life to your party and gives peace of mind for the morning after.
I'm a writer, Men's Lifestyle blogger, Contributing Style Writer, and Digital Marketer. In recent years, I've been published on Yahoo! Style, Yahoo! Travel, and others. Named Top 10 UK Men's Lifestyle Blog on the web to Follow in 2020 by VUELIO. Check out my YouTube Channel and follow us Twitter #TheJoeyJournal TikTok @TheJoeyJournal
home improvements
home interior ideas
home interiors
interior design
luxury vinyl flooring