From Men's grooming, to Stylish Accessories I hope you feel inspired to try at least some of the items I've per-selected in this post on your next travels wherever that maybe. It's worth investing in some luxury items to treat yourself while your away on vacation don't you think?
It's definitely that time of year when everyone is starting to think about Summer Vacations, where to go and what to pack seems just as relevant in what you choose in your suitcase and hand luggage. Travel should always be a pleasant experience where by things should run as smoothly as possible and taking into account those home comfort items you bring along for the ride.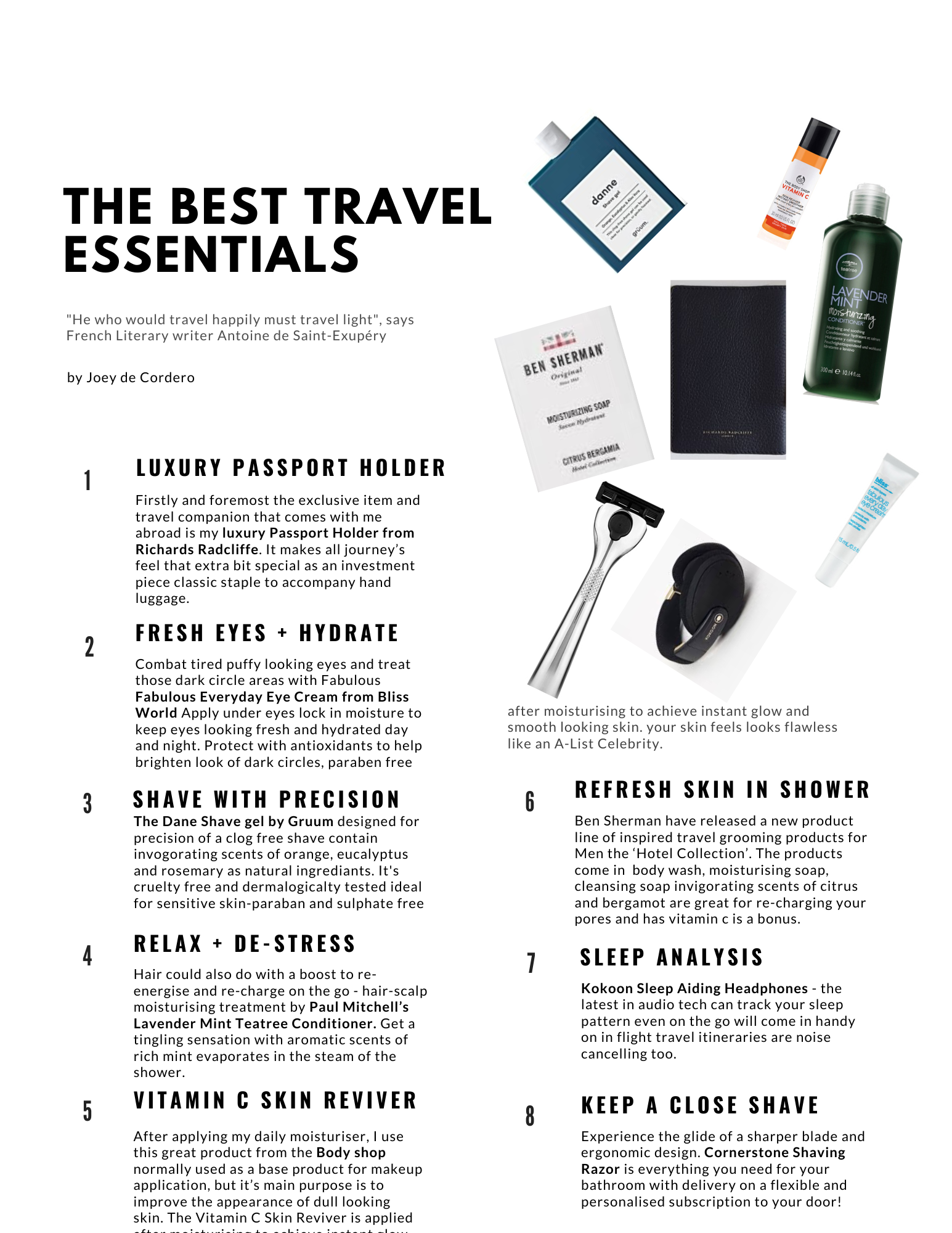 Disclaimer: This post contains press samples, but all opinions expressed are my own. As always, all opinions are my own and I will never promote something I don't personally use and believe in. Some of the above links are affiliate links and I will earn a tiny percentage of the sale if you purchase through them at no extra cost to you. Thanks for supporting The Joey Journal!
If you really enjoyed this post, please follow my blog via Bloglovin to keep updated
I'm a writer, Men's Lifestyle blogger, Contributing Style Writer, and Digital Marketer. In recent years, I've been published on Yahoo! Style, Yahoo! Travel, and others. Named Top 10 UK Men's Lifestyle Blog on the web to Follow in 2020 by VUELIO. Check out my YouTube Channel and follow us Twitter #TheJoeyJournal TikTok @TheJoeyJournal
Beauty
Ben Sherman Hotel Collection
Bliss World
body shop
Cornerstone Shaving
Gruum
kokoon
Mens Accesories
Paul Mitchell Haircare
Richards Radcliffe
Skincare
The Best Travel Essentials
Top 10 Mens Travel Grooming Products
Travel
Travel Bag
Travel Kit